Are Home Prices Continuing To Rise?
Posted by Shalynn Sims on Friday, March 11, 2022 at 12:00 PM
By Shalynn Sims / March 11, 2022
Comment
Many analysts projected home price appreciation would slow dramatically in the fall of 2021 and then continue to soften throughout 2022. So far,
that hasn't happened
. The major price indices are all revealing ongoing double-digit price appreciation. Here's a look at their reports on year-over-year price appreciation for December:
To show that they're not seeing signs of softening, here's a graph that gives the progression of all three indices for each month of 2021.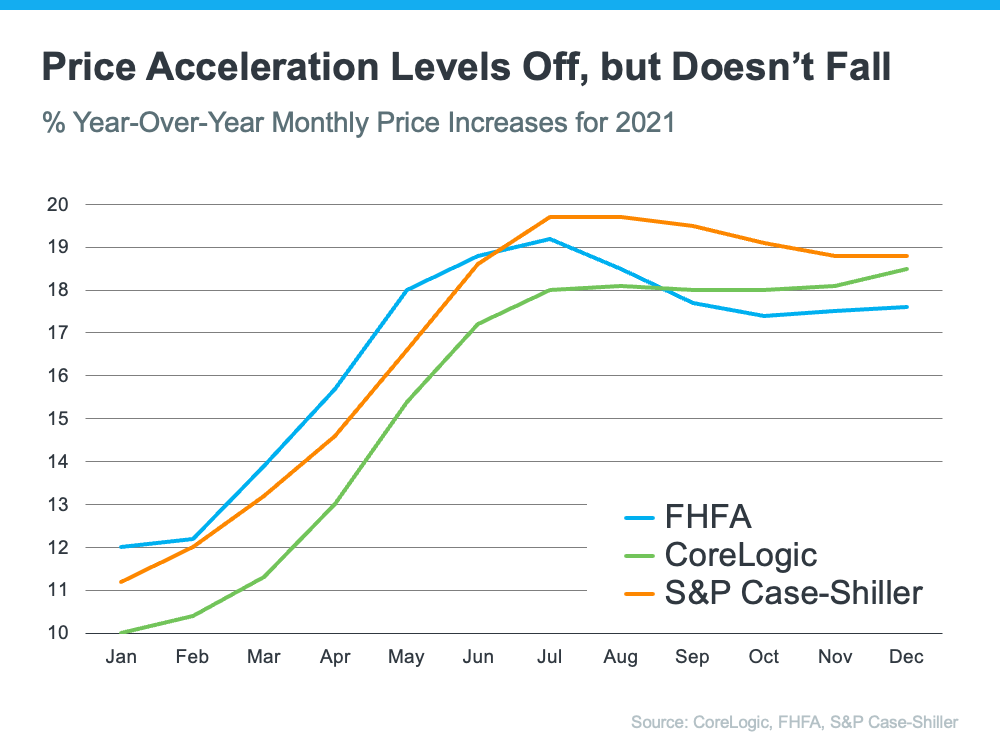 As the graph above reveals, last year, home price appreciation accelerated dramatically from January to July according to all three indices. Then, it began to decelerate in August when prices appreciated at a slower pace, but it didn't decline. Many thought that would be the beginning of a rapid slowdown in the level of home price appreciation, but as the data shows, that wasn't the case. Instead, prices began to level off for a few months before two of the three indices saw appreciation re-accelerate again in December. To clarify, deceleration is not the same as depreciation.
Acceleration
means prices rise at a greater year-over-year pace than the previous month.
Deceleration
means home values continue to rise but at a slower pace of year-over-year appreciation.
Depreciation
means prices drop below current values
. No one is forecasting that to happen
.
In fact, the
FHFA
revealed that price appreciation accelerated in December in six of the nine regions it tracks.
Case Shiller
showed that appreciation accelerated in 15 of the 20 metros they report on. As Selma Hepp, Deputy Chief Economist at
CoreLogic
,
explains
:
"After some signs of slowing home price growth . . .

monthly price growth re-accelerated again

, indicating home buyers have not yet thrown in the towel."

What Does This Mean for You?

Whether you're a first-time purchaser or someone looking to sell your current house and buy a home that better fits your needs, waiting to decide what to do will cost you in two ways:

Mortgage rates are

forecast

to rise this year.

Home prices should continue to appreciate at double-digit levels for some time.

If you wait, rising mortgage rates and high home price appreciation will have a dramatic impact on your monthly mortgage payment.

Maybe the best thing to do is listen to the

advice

of Len Kiefer, Deputy Chief Economist at

Freddie Mac

:
"

If you're thinking about waiting until next year and that maybe rates are higher, but you'll get a deal on prices - well that's risky.

It may be more advantageous to purchase this year relative to waiting until 2023 at this time."