Market Snapshot: What You Need to Know-February 2022
Posted by Shalynn Sims on Friday, March 25, 2022 at 9:00 AM
By Shalynn Sims / March 25, 2022
Comment
In this month's real estate market update I wanted to add 3 of the most important topics in the real estate housing market right now:
home prices and are home prices accelerating
supply and demand, and how that is impacting home price appreciation today
net worth, as we talk about some of the long-term financial benefits of owning a home
Prior to the pandemic, a normal year of home price appreciation was about 3.8% In 2021 we saw appreciation double over 2020. So the answer to the question, are home prices still accelerating, is yes. And we can look at this graph and see percent year over year price increases by month, going all the way back to January of 2021. In January of '21 we saw 10% home price appreciation and it really started to accelerate through the year. Now, in the summer it started to level out at about 18% but that's when we started having the conversation, and we started hearing experts saying, are home prices going to decelerate? And the reality of it is, we can see at the latest data we have, that green bar is showing that home prices are starting to tick back up. So buyers are really competing for homes, and that's causing home prices to tick up.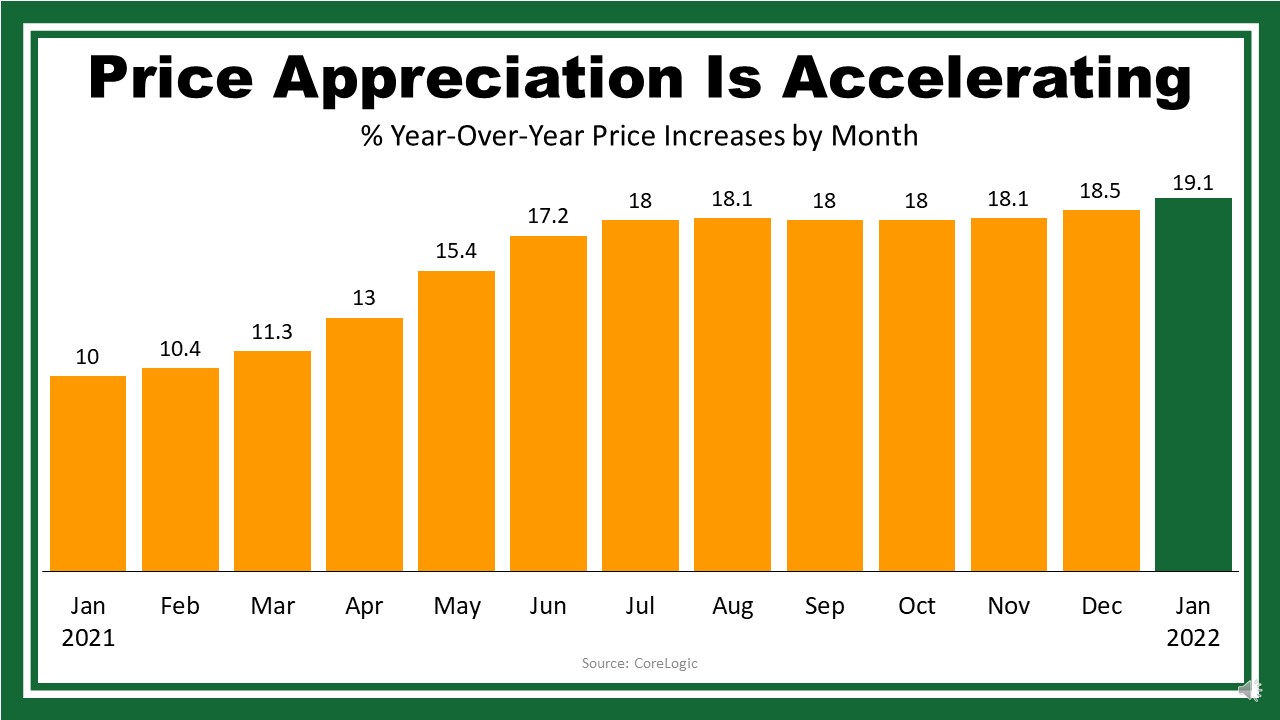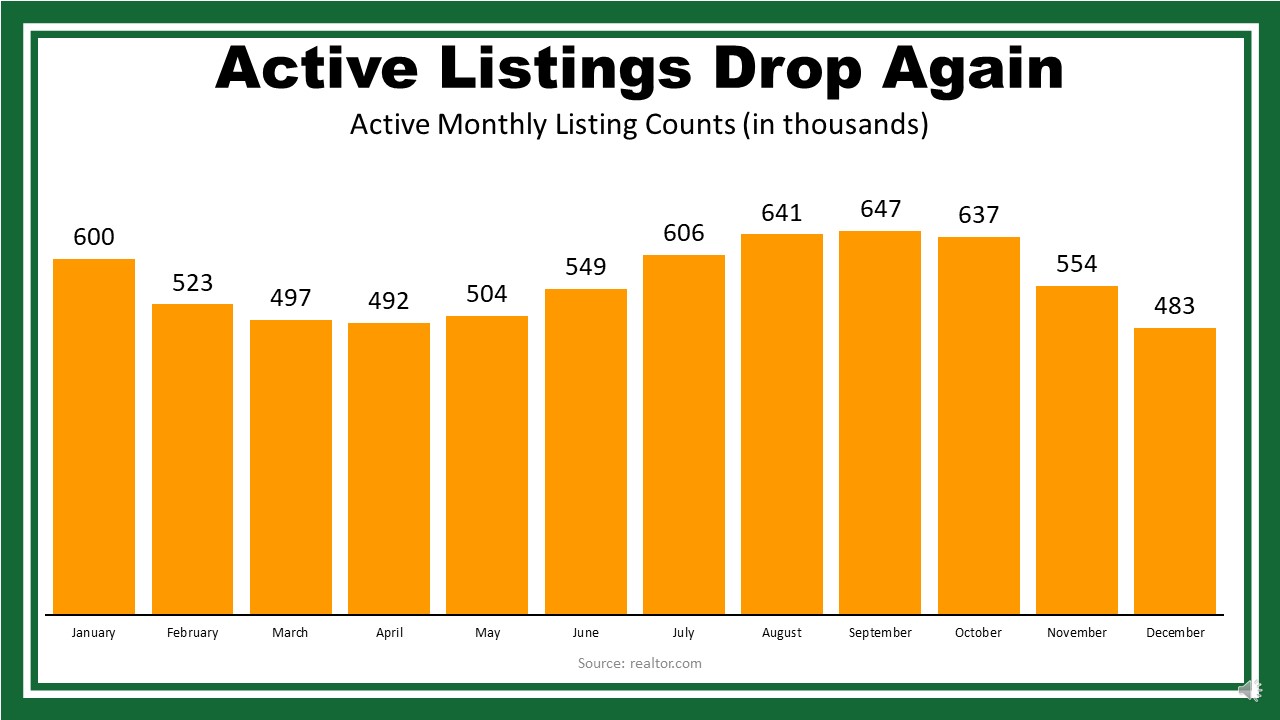 Now, let's talk a little bit about supply and demand. The general law of supply and demand is any time there are more buyers for an item than there are people selling that item, prices will rise because people are willing to pay more for the item. So we are at historically low inventory as this graph shows. This means that homes are selling just as fast as they're coming to the market. So, buyers are in high demand. There aren't enough homes on the market. They're not staying on the market. They're not staying active as listings, because they're going into pending and sold so quickly. So, you know, the reality is, any time we start to see inventory low like this, and prices start to rise.
Finally, net worth, and this is especially for those that are renting, and they're thinking I'm going to wait, I'm going to see if prices fall, I'm going to see if mortgage rates drop. We know we're not in an environment where that's projected to happen. So buying now and getting that net worth journey started toward home ownership is such a game changer for the future. And I think another way to look at this. It says the net worth of a typical homeowner is about 40 times the net worth of a renter. That is huge. So the numbers don't lie.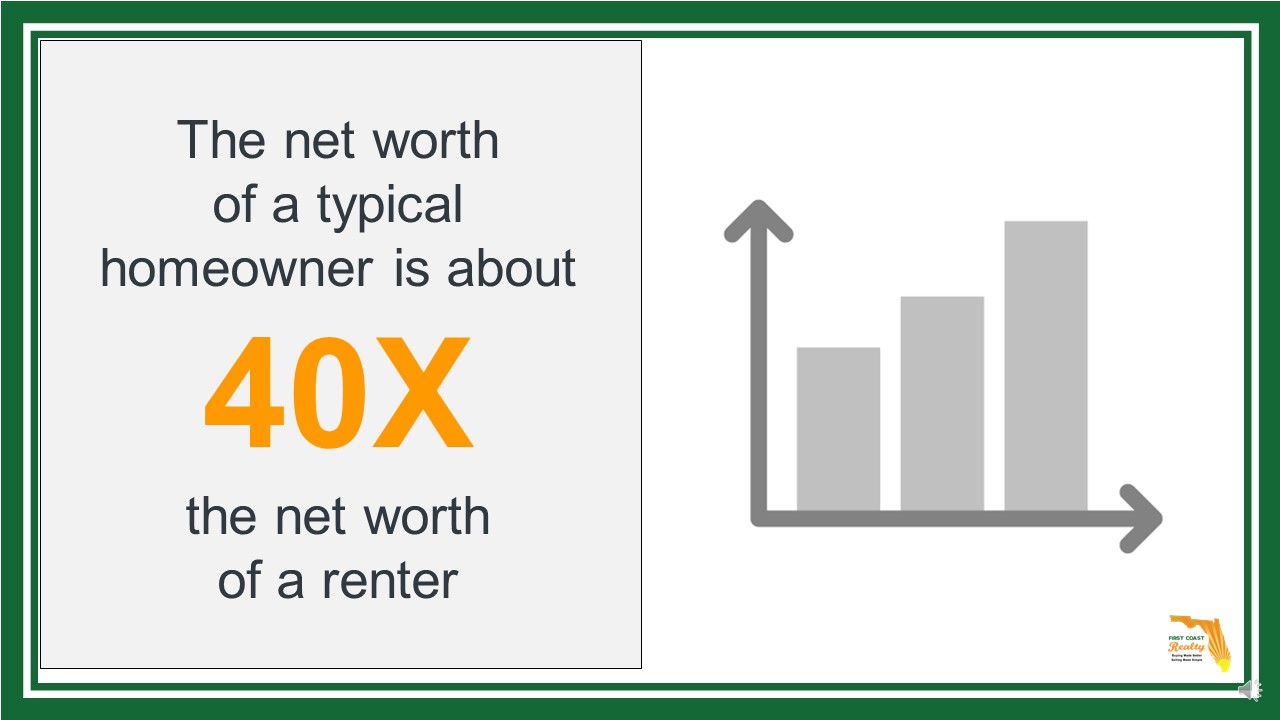 So What Does This Mean For Buyers and Sellers?
So what does all this mean? Things are starting to look better for buyers but we still have a long way to go. The ratio of sales price to list price still hovers at 100%. It is more important than ever for buyers to go in strong with an offer and have all their ducks in a row. You might not get a second chance. When you work with First Coast Realty, you get a team of network individuals standing by to make sure you dreams of homeownership become a reality.
To the sellers out there yes the market is strong but the indicators show we might have reached the peak of the seller's market. Now is the time to sell. Call First Coast Realty to receive a complimentary Broker's Price Opinion.